Tips to Consider Before Showing a Rental Property
       Real estate can be a lucrative investment that provides income well into retirement. Real estate investors who intend to rent their properties will have to periodically show them to prospective tenants. The process of showing a rental property begins before such tenants arrive to look at the home. Landlords who want to get the best possible return on their real estate investments can consider these tips before showing their properties.
Design Ideas for Your Dream Custom Built Home
  There are many advantages to designing your own home. Gone are the builder-basic styles, layouts that don't work for your family, and exteriors you can't tell apart from your neighbors'. To help with your planning, check out these tips
Simple Ways to Improve a Kitchen Pantry
    People have been spending more time at home in 2020 than in years past, and certain projects around the house have become a priority. One home improvement idea that serves the double benefit of creating organization and making cooking at home more efficient is to reimagine the kitchen pantry
Rooms Can Serve Double Duty
        Many homes do not have space for guest rooms, kid's play areas and home theater lounges that are possible in homes with substantial square footage. But they may not be missing out at all.
Why Weeds Can Be Found Everywhere
     The ubiquitous nature of weeds can make them seem like they can grow anywhere, and that's because they can.
How to Set Your Home's List Price – The Only 4 Factors that Matter
    "How much is my home worth?" That's the first question most homeowners consider when the time comes to sell.
      Curb appeal goes a long way toward attracting potential buyers. According to the National Association of Realtors, first impressions of a property have a strong influence on buyers.
How to Build a More Efficient Home This Summer
       With weather forecasts calling for a warmer than normal summer and social distancing encouraging us to spend more time at home, we could all benefit from boosting our home's energy efficiency to save on energy bills. 
Bringing Natural Elements Into Outdoor Living Space
   Outdoor living is wildly popular, as more and more homeowners are bringing elements once reserved for home interiors into their backyards. 
Improve Soil Quality for a Better Lawn
    A lush, green lawn can vastly improve a homes' curb appeal. Thick, healthy grass indicates that the homeowners care enough about the property to invest the time, effort and money to make them beautiful.
Things to Look for When Buying a Home
      When you get ready to pick your first home you will probably want to keep a checklist of all the homes you visit.
Planning Your First Mortgage
      Looking to purchase your first home?  There are a number of benefits to owning your first home.  However, many will have to obtain a mortgage to do so.  You should calculate how much home you could afford.  When doing so you should consider your income, your debts and the down payments.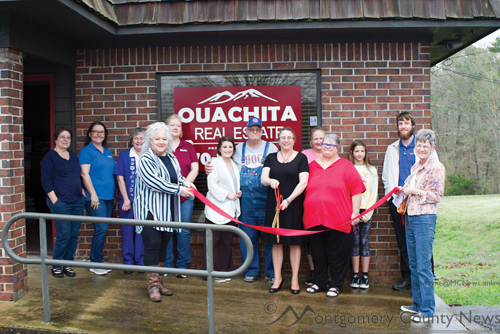 Mount Ida Area Chamber Welcomes Ouachita Real Estate with Ribbon Cutting
The Mount Ida Area Chamber of Commerce and Ouachita Real Estate hosted a ribbon cutting ceremony Thursday, March 19, to celebrate the grand opening of Montgomery County's newest real estate business.